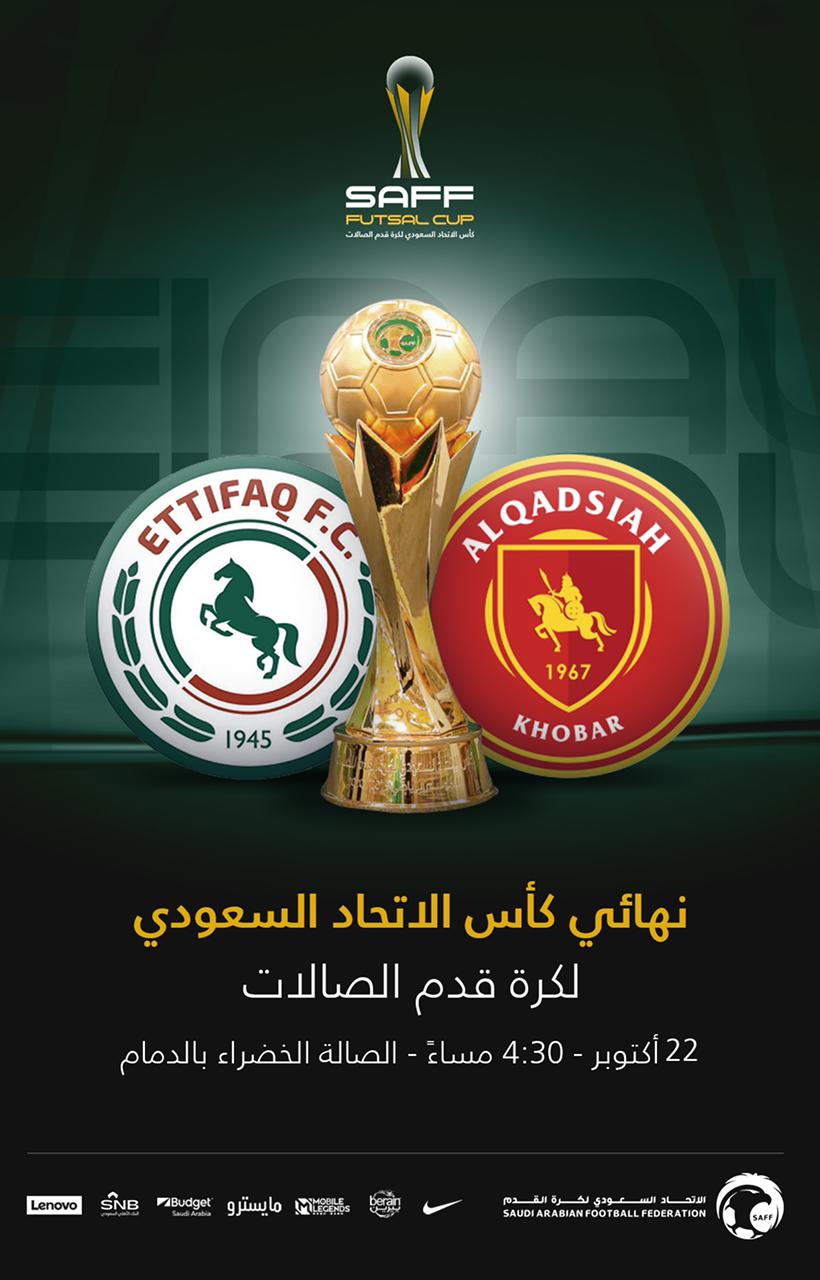 Futsal Cup Final will be held between Al-Qadisiyah and Ettifaq in Dammam
2021-10-21
18:30:37
The Green Hall in Dammam will host, at 4:30 pm, tomorrow, Friday, The Futsal Saudi Federation Cup Final match between Ettifaq and Al-Qadisiyah for the 2020-2021 sports season, in its third edition.

The Grand Final is titled "Separation of Partnership" between the two teams equal in the number of titles, as each team won one title, as Ettifaq will seek to preserve the title that was crowned last season, while Al-Qadisiyah hopes to regain the title absent since the 2018-2019 season.

Ettifaq ended its preparations for the match under the leadership of its coach Abu Bakr Saeed, who relies on the distinguished elements owned by his team, while Al-Qadisiyah concluded its preparations under the leadership of its coach Tariq Rizk, who developed a plan for the match in which he will play by relying and focusing on foreign and international players.

Ettifaq qualified for the final after beating Hira in the round of 16, 12-0, before beating Al-Faw 8-2 in the quarter-finals, while it beat Al-Arda 4-2 in the semi-finals.

On the other hand, Al-Qadisiyah started its campaign by defeating Al-Nahda 8-3 in the round of 16, before beating Munif 7-0 in the quarter-finals, while it won 8-1 over Al-Thuqbah in the semi-finals.

The two teams have a lot of stars, which predicts a strong match, as Ettifaq enters the match, supported by its stars, Abdulaziz Al-Alouni, Abdullah Al-Shamri, Ihab Al-Saad, Osama Bab Abdullah, Ibrahim Al-Asiri, Jawhar Jamah, Nawaf Al-Arwan and Nasser Al-Harthy.

Al-Qadisiyah list is supported by many stars, most notably Moaz Al-Asiri, Asaad Al-Saad, Abdulelah Al-Otaibi, Omar Al-Dabal, Buccino, Khaled Maradona, Sultan Al-Duhaim and Saleh Merhi.