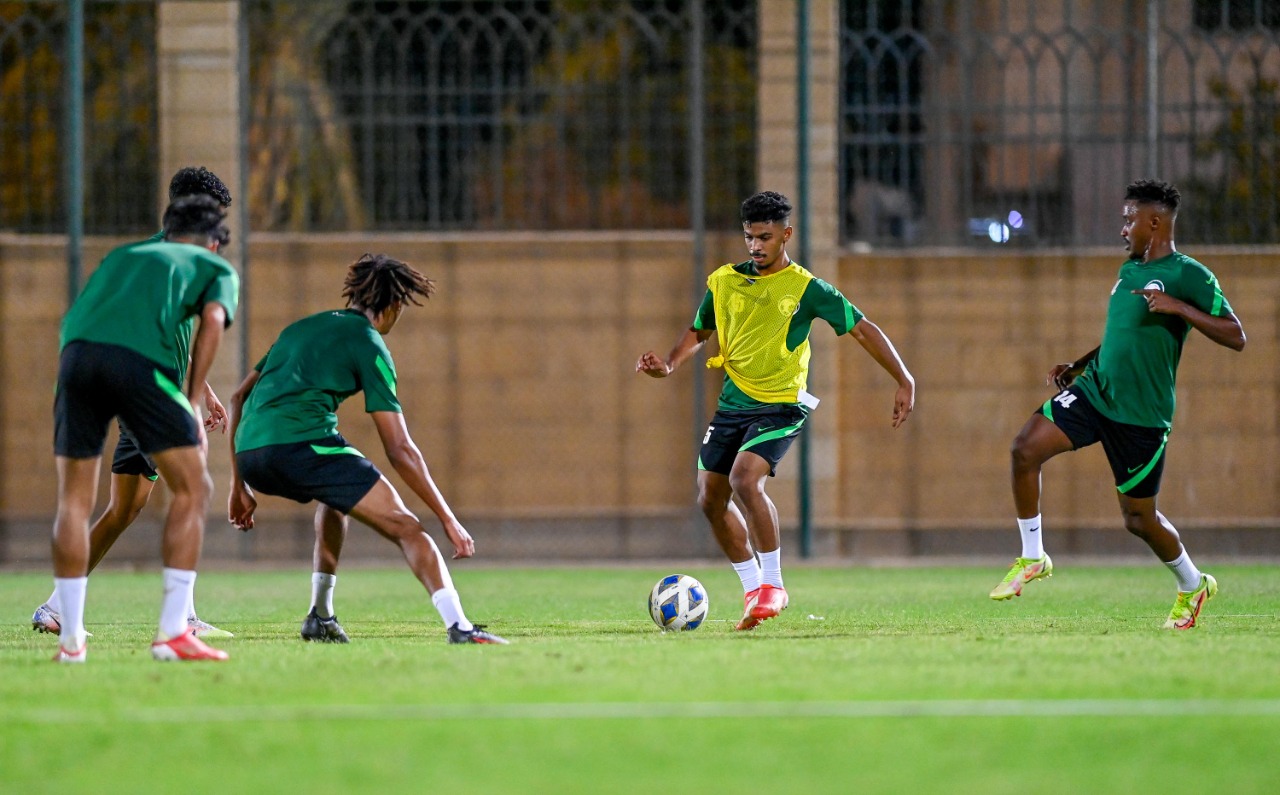 The U-23 national team begins its training in preparation for the Asian qualifiers
2021-10-24
22:07:05
Today, Sunday, the U-23 national team inaugurated its training in Riyadh, in preparation for its departure to the Uzbek capital, Tashkent, on Monday evening, to compete in the qualifiers for the U-23 AFC Asian Cup 2022 in Uzbekistan, which will be held from 27 October to 2 November.

The U-23 national team players conducted their training this evening on the reserve stadium of Prince Faisal bin Fahd Stadium, under the supervision of coach Saad Al-Shehri and the assistant technical staff, during which they were divided into two groups.

The first group, which included the players who participated with their clubs in the ninth round of the Prince Mohammed bin Salman Professional Cup League yesterday, performed a reflexive exercise, while the other group applied a passing exercise, followed by a training session with possession of the ball, to conclude the training session with a mini-maneuver.

The list included (23) players, whose names were as follows: Nawaf Al-Aqeedi, Abdul Rahman Al-Shamri, Abdul Rahman Al-Sanibi, Saud Abdul Hamid, Nawaf Bushel, Khalifa Al-Dosari, Walid Al-Ahmad, Jihad Zekry, Mishaal Al-Sabiani, Muhammad Al-Kunaidari, Ibrahim Mahnashi, Mansour Al-Bishi, Ziyad Al-Juhani, Badr Munshi, Hamed Al-Ghamdi, Hussein Al-Issa, Abdulmohsen Al-Qahtani, Hamad Al-Yami, Ayman Yahya, Turki Al-Ammar, Khaled Al-Ghannam, Firas Al-Braikan, and Abdullah Al-Hamdan.

The U-23 national team is in Group D, along with Uzbekistan, Kuwait and Bangladesh, as it will open its qualifying campaign against Uzbekistan on 27 of this month, and will face Kuwait national team on 30 of the same month, and will conclude its matches against Bangladesh national team in 2nd of next November.