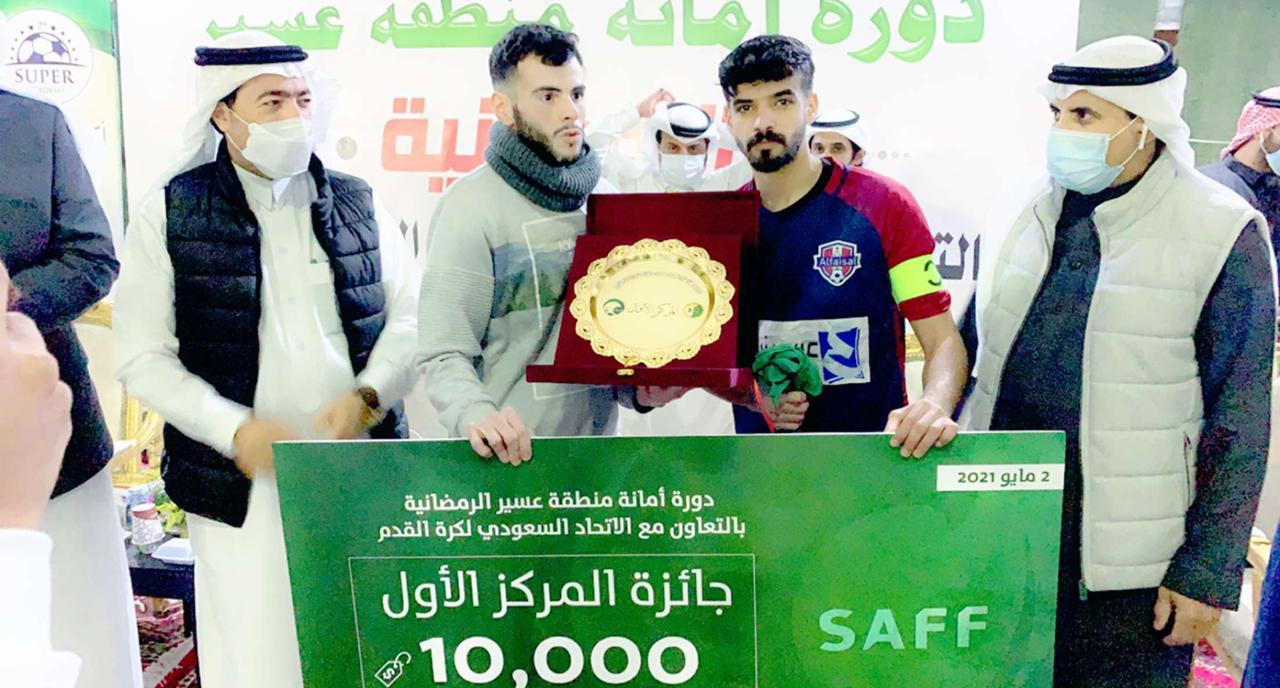 In cooperation with the SAAF: the conclusion of the Asir Ramadan Municipality Championship
2021-05-03
16:44:41
The Mayor of Asir region, Dr. Walid Al-Hamidi, and a member of the Board of Directors of the Saudi Football Fedweration, Muaidh Al-Shehri, crowned Al-Faisal's Abha team with a shield of the Ramadan Municipality of Asir region, which was hosted by the Khamis Mushait Super Stadium with the participation of 24 teams and was held in cooperation with the Saudi Football Federation.

Al-Faisal Abha won the championship title and the financial reward for the hero (10 thousand riyals) after defeating the celebrities from Sarat Ubaida in penalties after the end of the original time in a negative tie, in the presence of a group of athletes and media professionals.

The celebrity team and the runner-up won the silver medals and an amount of 5 thousand riyals, while the individual prizes were won by Fahd Al-Bishri from Al-Faisal as the scorer of the tournament, and stardom went to the famous player Abdul Rahman Salim, while he won the award for the best goalkeeper for Leicester Al-Rownah player Khaled Al-Shayeb.

On his part, Moaid Al-Shehri congratulated the Asir region secretariat on the success of the tournament, pointing out that such Ramadan tournaments are a field for discovering football talents.

The member of the Board of Directors of the Saudi Federation praised the level presented by the youth participating in the tournament and the sporting spirit that the teams showed during the tournament.

For his part, the Mayor of Asir thanked the Saudi Football Association for its cooperation with the Asir Municipality in the success of this sporting event.

Al-Hamidi also congratulated the Al-Faisal and Celebrity teams on the wonderful level and beautiful competition, stressing that there is no loser between the brothers who are united by football and its honorable competition.